November 6, 2019 - ATR Employee Receives Shock and Vibration Exchange Lifetime Achievement Award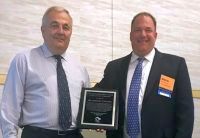 Congratulations to Mr. Gregory Harris, a Principal Engineer with ATR, on receiving the Shock and Vibration Exchange Lifetime Achievement Award at the SAVE conference in Atlanta, Georgia on November 6, 2019. This award honors individuals who, through years of professional dedication, have made outstanding contributions to knowledge and practice in the field of shock and vibration.
During his exemplary Navy civilian engineering career, Mr. Harris became a principal subject matter expert on the effects of underwater bulk charge weapons. Over a 20-year period, Mr. Harris led the technical execution of a collaborative program with the German Bundeswehr to develop and deploy simulation software known as DYSMAS that accurately predicts the complex interaction of underwater weapons with Naval structures.
ATR is proud of Greg's achievements and his continuing pursuit of excellence in service to our Navy clients.
July 21, 2018 - ATR Change of Address
ATR is now in a new location. The new address is 12301 Kiln Ct, Beltsville, MD 20705.
March 13, 2018 - ATR RollerBall® Sorter News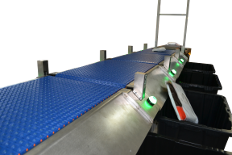 The ATR RollerBall® Sorter is a new sorter solution for small to medium-sized sorting applications with throughput capacities in the 1,800 - 2,700 packages per hour (30 - 45 packages/min) range. For addition photos and details, Click Here
May 11, 2015 - ATR Receives 2014 USPS Supplier Innovation Award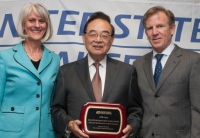 Dr. Jackson Yang, President, receives the 2014 USPS Supplier Innovation Award which recognizes suppliers for innovative efforts that benefit the Postal Service in a special way. For addition photos and details, Click Here
May 4, 2013 - ATR Receives Raytheon Innovation Award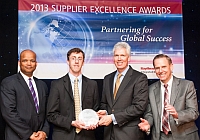 Dave Hart, senior mechanical engineer, receives the Raytheon Innovation Award on behalf of ATR for work on the DARPA Tactical Expandable Maritime Platform (TEMP) in 2012. ATR received the award as part of an event held May 4, 2013 recognizing outstanding Raytheon suppliers and subcontractors. Presenting the award are, from left to right, Robert Curbeam (Vice President, IDS), Dan Crowley (President, IDS), and Mike Shaughnessy (Vice President, IDS).
October 30, 2011
- WUSA9.com Bethesda, ATR Founder and CEO Jackson Yang Named Maryland's "Clean Energy Entrepreneur of the Year"
read more...
February 1, 2011 - ATR sells its first solar electrical car charging system
ATR sold its first solar electrical car charging system. The system is scheduled to be installed in Bethesda, Maryland in May of this year.
December 1, 2010
- ATR installed two hybrid solar tracking systems for technology demonstrations
read more...
ATR installed two hybrid solar tracking systems in Maryland and Michigan for technology demonstrations.

ATR is pleased to announce a new ATR energy product for the commercial market. This device is used to mount solar panels on utility light poles and provide automatic sun-tracking to maximize the solar energy harvest. Power produced from the solar panel is converted to AC power and fed back into the utility grid. Highly reliable and energy-efficient sun tracking is performed by ATR's patent-pending "bio-logic" controller and mechanism. Existing light poles provides a ready mounting structure and a convenient interface with the utility power grid. ATR's debut product is targeted towards business parks and commercial lighting. Models for general roadway lighting and utility poles will soon follow. ATR will manufacture these products at our Columbia Md. Facilities. Congratulations!!
12/2009 - ATR has recently been awarded three tasks under our Seaport E Contract
ATR has recently been awarded three task orders under our Seaport E contract N00178-04-D-4004 for engineering, technical and support services. These task orders will provide technical support to several Navy R&D laboratories.
For more information, Click Here
5/2009 - Excerpts from a memo from Dr. Jackson Yang announcing the formation of a new branch:
I am pleased to announce that adding to ATR's family of services, a new branch, Technical Publications Group, has been established within the Engineering & Systems Division (Code 100), expanding the Division's already wide range of capabilities. The new branch will be designated Code 190 and led by Bob Colegrove.
Code 190 will provide a full range of technical writing and publishing services to both direct and in-house projects, including engineering and scientific reports, technical manuals, journal articles, conference papers, and various program-related documents. Through their dedicated support and effective resource deployment, ATR will achieve high quality products and standard, improved cost effectiveness, and rapid turn-around that are expected of us by our clients.
3/2009 - New Contract Awards
Two new contracts were awarded in the area of Modeling and Simulation of Traumatic Brain Injury (TBI) caused by Blast Effects. DARPA SBIR Phase I was awarded December 19, 2008 and a contract under the ONR Challenge Program was awarded on March 4, 2009.