ATR has been a major equipment developer for the USPS engineering and has developed several first-of-a-kind devices, many of which have gone to production and now are standard products.
USPS Tag Cancelling Machine (Tag Blaster)
TOP

An automated tag canceller that accurately detects tag position and applies an ink stripe through old tags on tray sleeves.
Highlights
Eliminates peeling off of old labels
Reduces rework and repair
Increases through-put of the AAA system
Simple Operation & Maintenance
One-switch, untended operation
All components are highly accessible, sturdy and reliable
Commercially available off-the-shelf components
Safe and Practical Inking Technology
Uses commercially available quick drying ink
No drip spray nozzles
Stripes applied only to tags
Quick and convenient ink supply change
Low ink alert indicator
For more products see our photo gallery.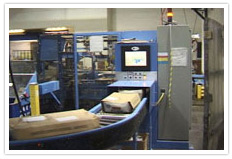 ATR developed the first Automatic Tray Unsleever (ATU) for the USPS and have deployed several systems for field evaluation where they have demonstrated production rates of over 9,000 trays per day!
The ATU is a self-contained machine that can process and unsleeve standard MM, EMM and SMM mail trays at a rate exceeding 15 trays per minute. Incoming trays are scanned to determine tray type and their sleeved or unsleeved status. Once a sleeved tray is inducted, the ATU cuts and removes the strap, removes the tray from the sleeve, and sorts the empty sleeve into a container designated for that type sleeve. The machine separates the straps into a container for recycling. ATR provides a smart facility interface, which allows facility control to monitor operations and control machine functions. This interface complies with the MMS USPS Interoperability Specification.
USPS Airline Assignment Machine
TOP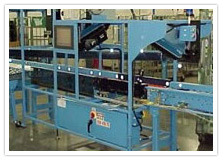 The EAA is an automated material handling system created for the United States Postal Service (USPS). The EAA accepts Postal letter trays and tubs from an infeed conveyor, scans and weighs them. It communicates with the Transaction Concentrator (TC) to obtain an air label assignment for each tray. Air labels are applied to the top of the tray or tub and verified with a barcode scanner. Trays with processing errors are diverted to a reject line, while correctly processed trays are conveyed to the downstream conveyor line.
For more information on the TRAX (AAA) System Click Here!
USPS Standard Conveyor (IDR) Test Box
TOP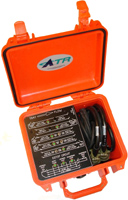 Need a fast and effective Troubleshooting tool?
Get ATR's New IDR Connection Doctor
The IDR Connection Doctor takes the guesswork out of troubleshooting the USPS IDR interface.
This easy-to-use device gives installation and maintenance professionals the ability to troubleshoot and validate rapidly the function of the USPS IDR interface between pieces of material handling equipment.
Just plug in the IDR Connection Doctor between any two IDR connectors, and the graphical front panel shows the status of both the upstream and downstream signals. Convenient pushbuttons then force key signals and test responses. A capping connector is provided to isolate any E-Stop loop and test specific conveyor runs
Individual Package Recovery System (IPRS)
TOP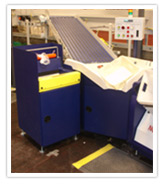 The Individual Package Recovery System (IPRS) is show in the left side of the picture. This device was invented by ATR to solve a problem with the collection and compaction of shrink wrap materials removed from package bundles as they are loaded into the Northrop Grumman Flats Sorter and Sequencer machine. ATR developed this device to replace the problematic centralized collection system. The IPRS uses 24 DC motorized powered roller technology to power two opposing belt mounted internally. When activated the counter directional belts roll up the discarded shrink wrap and compress it into a cylindrical slug for removal and recycling at the end of the day.
Street Tray Labeler (STL)
TOP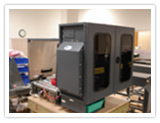 The Street Tray Labeler (STL) is automatic labeling device that replaces a removable label on the Street Tray with and updated label reflecting the current tray contents. This device is integrated with a short conveyor section and is pre-configured as a drop in unit to ease field installation. Street trays arrive on the interfacing conveyor then they are stopped and held in a precise position. A new tag is printed and a pneumatic actuator assembly removes and replaces the old tag from the street tray. A bar code scanner verifies the transaction before the tray is released to continue to the downstream conveyor.